Sunday is the seventh and final night in Night Blights.
More info coming soon
The Story
The End of the Night Blights
Now my weapon is ready to roll
I can fight back and take back control
Round any corner they can now be
And they'll be looking, looking for me
They are so hungry and bored with their tricks
I must now kill them, by finding glowsticks
If I can win and keep them at bay
Then they will be gone before the next day!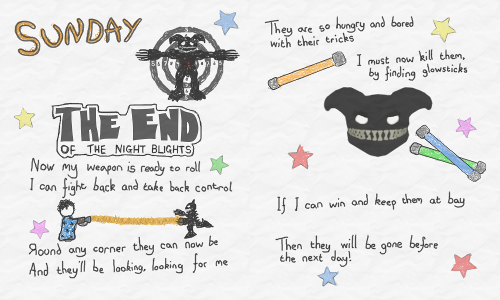 Ad blocker interference detected!
Wikia is a free-to-use site that makes money from advertising. We have a modified experience for viewers using ad blockers

Wikia is not accessible if you've made further modifications. Remove the custom ad blocker rule(s) and the page will load as expected.